Yay! I got this email from Pterodactyl today:
Hello from Pterodactyl!
Last Saturday's opening of Animal Show was canceled at the last minute because of a 4 alarm fire across the street. See more info about the fire
here
. We are rescheduling the opening for
THIS SATURDAY, April 2nd at 8pm
. Hope everyone can make it!! Details for the show are below.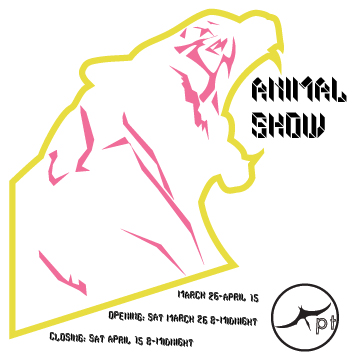 Animals become a canvas onto which we humans project our
myths, fantasies and ideas, making up our own meanings.
Animal Show explores ways in which animals are transformed
into such unwitting actors.


March 26-April 15 / Opening Saturday March 26 8-Midnight
3237 Amber Street, 5th Floor, Phila, PA 19134


With work by
Katie Henry // Ann Klicka // Emma Meetz // Darla Jackson
Matthew Lucash // Oranit Solomonov // Amy Scheidegger
Skuds Mckinley // Kevin Galloway // Kristen Solecki
Caitlin Carouge // Sarah Goodreau
Eleanor Grosch